INTRODUCING ALTECH CORPORATION
Altech is a supplier of automation and control devices, specializing in supplies for panel building including circuit protection devices, push buttons and pilot lights, motor disconnects, terminal blocks and cable management. In order to continue to expand our product offerings and provide complete solutions to our customers, we will be stocking the following Altech product lines. In addition, we can supply our customers with other quality products from Altech.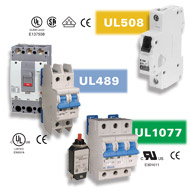 CIRCUIT PROTECTION DEVICES
Altech's established line of UL508 listed devices is now being complimented by UL1077 Recognized Supplementary Protectors, UL489 listed Miniature Molded Case Circuit Breakers and full size UL489 listed Molded Case Circuit Breakers. The result is the broadest line of miniature circuit breakers in the industry.
AC or DC UL489 Miniature Molded Case Circuit Breakers
UL489 Listed Molded Case Circuit Breakers, up to 600A
UL508 Manual Motor Controllers "Suitable as Motor Disconnect"
Three Phase Adjustable Trip Miniature Circuit Breakers/Manual Motor Controllers
Three Phase Adjustable Trip Economy Manual Motor Controllers
UL1077 Recognized Supplementary Protectors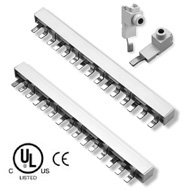 BUSBAR SYSTEMS FOR MINIATURE CIRCUIT BREAKERS
Altech's busbar system is an innovative way to jumper Miniature Circuit Breakers. They work with most top brands of miniature circuit breakers.
Installation time savings
Panel space savings
Little or no maintenance
High electrical rating
UL approved for MCBs
Compatible with top brand MCBs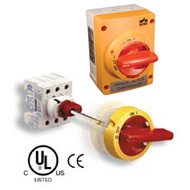 MOTOR DISCONNECT SWITCHES
Altech Motor Disconnect Switches are UL508 Listed Manual Motor Controllers for AC Motor Across-the-line, AC General Use.
Electrical ratings up to 150A/600V
Suitable for Motor Disconnect Means
60A disconnect is smallest in industry
Horsepower rated to 75hp
Extended and direct handles, toggle switches DIN Rail and panel mount
Enclosed motor disconnect switches
Comprehensive range of accessories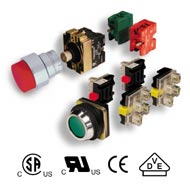 PUSH BUTTONS & PILOT LIGHTS
Altech's new 22 and 30 mm Metallic Push Buttons, Selector Switches and LED Pilot Lights offer exceptional reliability and flexibility.
Designs include Operators, Pilot Lights, Modular Contact Blocks and Bulb Holders
Push Button Stations
Wide range of accessories
OTHER AVAILABLE PRODUCT FROM ALTECH CORPORATION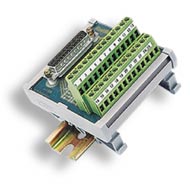 Interface Modules
Pin & Sleeve Devices
Marking Systems
Foot Switches
Liquid Tight Strain Relief
Wire Duct
Ferrules
Fuses