Roxtec: Fire-rated Cable Sealing Technology

With creativity and an eye for design, Roxtec manufactures complete sealing solutions for cable and pipe penetrations. Their products raise the quality, safety and flexibility in living and working environments.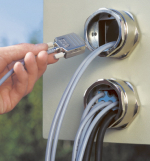 Their priorities are clear: simple, adjustable and safe seals, availability around the world and fast delivery times. But that vision extends beyond the products.
Roxtec does not just supply seals, they supply safety. Dangers such as fire, water, explosions, high gas pressures, electro-magnetic interference and vibrations can affect safety for personnel and equipment. Roxtec's seals for pipe and cable penetrations protect against these dangers and ensure reliable operation.
A Roxtec sealing unit can be adapted to fit a wide range of diameters of cables or pipes. The method is simple. Just peel the inner opening in the sealing unit, layer by layer, until the cable or pipe fits. This unique and smart technique is called Multidiameter™ and was invented by Roxtec to simplify installation work, purchasing and logistics for the industry.
Multidiameter™ Technology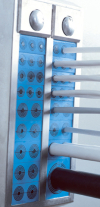 Multidiameter™, makes it possible to seal cables and pipes of a great range of diameters with just a few sizes of seals. An installation can always be finished on site since the units themselves compensate for any surprises or last-minute changes.
Everyone in the project, from design to maintenance, will benefit and site stock can be kept at a minimum. Roxtec provides safety, it saves time and material, plus it is supplied quickly from all over the world.